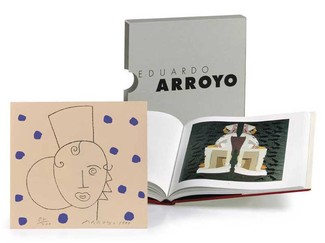 Click on the image for a more detailed view.
Eduardo Arroyo
Arroyo. Cat. expo. en MNCARS (I - azul)
, 1998
Image format: 27 x 25 cm
Edition of 200 numbered and signed works
Artwork by Arroyo and Museo de Arte Reina Sofía
Order number: 4143
Normal price:
290,00 €
Special price for memberships:
Quote A:
275,50 €

( save 5% )

Quote B:
261,00 €

( save 10% )

Quote C:
232,00 €

( save 20% )

All prices include taxes
About this work:
This luxurious catalogue affords us an unusual glimpse of the multi-faceted Arroyo at different periods in his life. It consists of a spectacular retrospective of almost 200 paintings, drawings, sculptures and set designs in 193 colour reproductions, 31 reproductions in black and white and 97 photographic portraits and set designs. There are also commentaries and texts by prestigious experts such as Francisco Calvo Serraller, Miguel Zugaza and others.


The catalogue: Hard cover binding lined in cloth, with stampings on spine and front cover, and jacket. 26,5 x 29 cm. 300 pages.

The print: Waldorf Astoria I (blue). Silkscreen in two colours. 27 x 25 cm. Edition of 200 prints, numbered and signed.

A cardboard cover protects the ensemble.



Other Artworks by Arroyo: