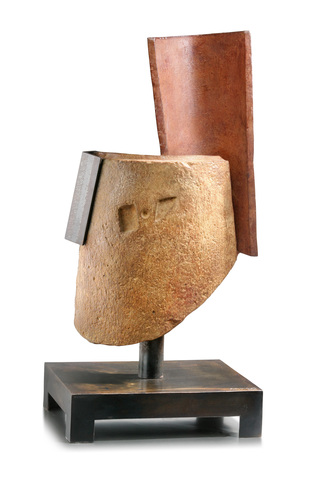 Click on the image for a more detailed view.
Eduardo Arroyo
Carmen Amaya
, 1989
Coloured bronze
Format: Altura 67 cm. Peso 24 kg.
Edition of 28 numbered and signed works
Order number: 26179
Normal price:
12.000,00 €
Special price for memberships:
Quote A:
11.400,00 €

( save 5% )

Quote B:
10.800,00 €

( save 10% )

Quote C:
9.600,00 €

( save 20% )

All prices include taxes
About this work:
La escultura Carmen Amaya es un claro ejemplo de la desbordante imaginación del artista. Con un par de tejas, un perfil de hierro y unas simples hendiduras sugiriendo detalles faciales recrea el artista el rostro, la peineta y un mechón de la gran bailarina, figura tan presente en su obra (ver también la gráfica que acompaña el catálogo de la retrospectiva del Reina Sofía).
El observador descifra las claves empleadas por el artista y sucumbe cautivado ante la gracia, el genio y la dignidad que irradia la figura. Los recursos materiales empleados aportan un atractivo añadido. Las tejas fueron moldeadas en cera antes de ser fundidas en bronce y policromadas en el baño de pátina.
El 50% del precio y los gastos de embalaje y envío deberán ser abonados en efectivo.
Other Artworks by Arroyo: