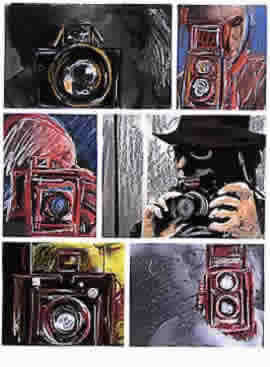 Click on the image for a more detailed view.
Carlos Saura
Elogio de mis cámaras
, 2000
Lithograph in 12 colors
Image format: 61 x 42 cm
Paper: Arches 65 x 50 cm
Edition of 100 numbered and signed works
Order number: 7138
Normal price:
420,00 €
Special price for memberships:
Quote A:
399,00 €

( save 5% )

Quote B:
378,00 €

( save 10% )

Quote C:
336,00 €

( save 20% )

All prices include taxes
About this work:
For many years, the photographer Carlos Saura has worked on an aspect of his art that is of great interest: photographs painted over with sketches. To do this he uses enlargements of his photographs, mostly self-portraits, which he paints over with vigorous strokes and in different colours. The resulting works, El fantasma del estudio (The Ghost of the Study) and Elogio a mis cámaras (Elegy to my Cameras) are so evocative that they have given rise to these two signed and numbered screen prints. They are the first series works by Carlos Saura as a plastic artist.

Other Artworks by Saura: