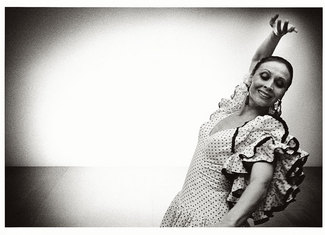 Click on the image for a more detailed view.
Carlos Saura
Merche Esmeralda en un ensayo para Sevillanas (50x60)
, 1991
Photograph
Image format: 50 x 60 cm
Paper: Baritado 50 x 60 cm
Order number: 7005
Normal price:
1.600,00 €
Special price for memberships:
Quote A:
1.520,00 €

( save 5% )

Quote B:
1.440,00 €

( save 10% )

Quote C:
1.280,00 €

( save 20% )

All prices include taxes
About this work:
Merche Esmeralda's complete devotion to her art is expressed in the infinite, almost ecstatic pleasure of her face and the abandonment of her body to the demands of the music. Here is the luminosity, grace and happiness of the Andalusian dance incarnated by Merche Esmeralda.

Black and white photographs on silver gelatine paper.
Format: 50 x 60 cm
Edition: 50. Numbered and signed.
Also available in 40 x 50 cm format
Normal price: ...........................................1.100,00 €
Special Price for memberships:
Quote A ( 5% discount): .................1.045,00 €
Quote B (10% discount): ..................990,00 €
Quote C (20% discount):................. 880,00 €
Other Artworks by Saura: