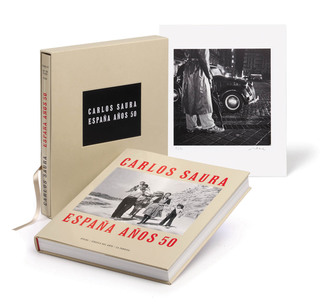 Click on the image for a more detailed view.
Carlos Saura
España años 50. Madrid nocturno
, 2016
Photograph
Format: 25 x 29 cm
Paper: Antinoë Brut 270 gramos
Edition of 100 numbered and signed works
Order number: 41132
Price:
150,00 €
All prices include taxes
About this work:
Primavera de 2016. Gracias a un acuerdo con el editor e impresor Gerhard Steidl, creador del sello editorial más solicitado por artistas y fotógrafos en el mundo, ha podido por fin ver la luz el libro sobre España que Carlos Saura ansiaba desde su juventud. La publicación simultánea de España años 50 en inglés (Vanished Spain), bajo el sello internacional de Steidl, y en castellano –en coedición de Steidl con Círculo del Arte y La Fábrica– supone la entrada de Carlos Saura en el mundo internacional de la fotografía.
La edición especial de Circulo del Arte para bibliófilos y coleccionistas
El impresionante volumen, diseñado y producido por Gerhard Steidl en su sede alemana de Göttingen (RFA), recoge en sus más de 250 páginas otras tantas imágenes en blanco y negro, impresas en una tonalidad tritono llena de matices y profundidades. El libro, encuadernado en tela y conservado en un elegante estuche protector, es portador de una carpetilla con una fotografía original de Carlos Saura, numerada y firmada por el autor. De los 500 ejemplares de la edición especial del libro, cada 100 ejemplares llevan una fotografía determinada de uno de 5 motivos opcionales, seleccionados, numerados y firmados por el autor (ver las 5 fotografías en las págs. 10 y 11).
El contenido narrativo de la obra
En los cálidos y sugestivos textos de Carlos Saura se aprecian dos vertientesclaramente diferenciadas. Por un lado están la introducción y el epílogode la obra, que son un cautivador relato autobiográfico de los orígenes yel desarrollo del autor como fotógrafo autodidacta, experimentador incansabley coleccionista apasionado de cámaras y sus componentes. Porel otro, el núcleo de la obra, que comprende 11 capítulos o segmentos fotográficos,correspondientes a las zonas geográficas recorridas por el jovenfotógrafo. Cada capítulo está encabezado por un escueto y orientadortexto, en el que confluyen comentarios fotográficos, recuerdos asociadosa los lugares y reflexiones sobre las condiciones de vida de los pueblos ylas gentes retratadas en las impactantes fotografías.
Las fotografías, un impacto estético y emocional
Las imágenes de inusitada belleza nos muestran un mundo remoto, casi irreal desde una perspectiva actual. Su contemplación nos da la medida de la profunda metamorfosis vivida por el país desde entonces. Aquella España de los años 50 era un país sumido en la pobreza, el atraso y el aislamiento, secuestrado por la dictadura y con huellas de la guerra civil todavía visibles. Con mirada certera captó Carlos Saura rostros y escenas inolvidables de una tierra agreste y una población sufrida y resistente, inquebrantable en su dignidad, su humanidad y sus ansias de vivir. Es el soberbio retrato de una España perdida ya en las brumas de los tiempos pero inmortalizada en este libro imprescindible por la cámara de un gran fotógrafo

El libro: Textos de Carlos Saura y más de 230 fotografías en blanco y negro. Encuadernado en tela con estampación en el lomo y sobrecubierta.
Formato: 29,5 x 25,7 cm. 250 págs.
El estuche: de cartoné con un cromo en el plano.
La fotografía: Madrid nocturno, fotografía original de Carlos Saura impresa por inyección de tinta acrílica sobre papel Antinoë Brut de 270 gramos. Edición de 100 ejemplares numerados y firmados por el autor.
Edición de 100 ejemplares numerados y firmados por el autor.
Formato: 28 x 23,5 cm.
Edición de cada modelo: 100 ejemplares numerados y firmados.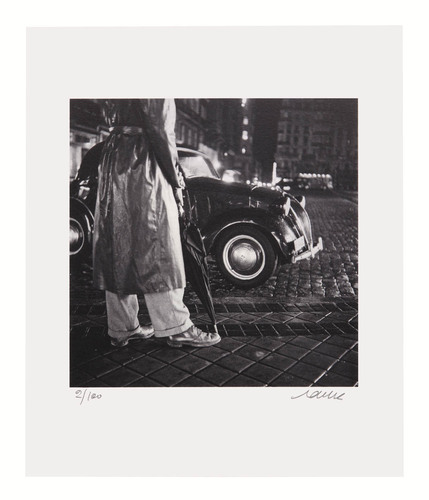 Esta obra está incluida en las siguientes Series de Circulo del Arte:
Other Artworks by Saura: