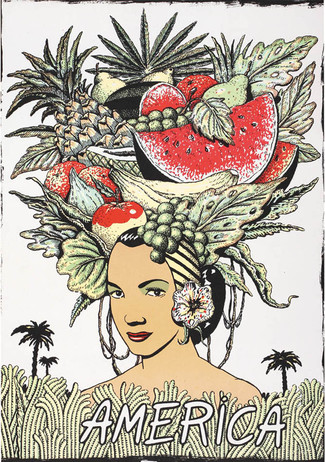 Click on the image for a more detailed view.
Fernando Bellver
Serie Cinco Continentes. América
, 2012
Lithograph
Paper: Connoisseur 300 gr. 70 x 48,5 cm
Edition of 250 numbered and signed works
Order number: 40571
Normal price:
250,00 €
Special price for memberships:
Quote A:
237,50 €

( save 5% )

Quote B:
225,00 €

( save 10% )

Quote C:
200,00 €

( save 20% )

All prices include taxes
Con marco de madera teñida de blanco
Suplement: 130,00 €
About this work:
Food has appeared in art from the dawn of art itself. The series of lithographs Five Continents: Food and Women of the World, created in the summer of 2012 by Fernando Bellver (Madrid, 1954), is a contemporary expression of that ancient artistic tradition.
Bellver's images are a captivating fusion of female portraiture and gastronomic still life. The artist, winner of the 2008 National Graphic Arts Award and several international awards, pays tribute here to the fruits and delicacies of the world, and to its women, historically the mainstays of food cultivation and preparation. The figures in these works wear fantastic hats filled with fruits and other foodstuffs typical of the continents and countries they represent.
Esta obra está incluida en las siguientes Series de Circulo del Arte:
Other Artworks by Bellver: