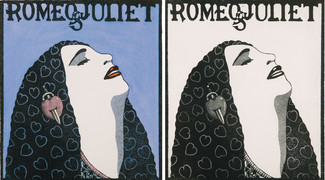 Click on the image for a more detailed view.
Fernando Bellver
Serie "Diosas de la ópera": Romeo & Julieta
, 2011
Conjunto de un aguafuerte en b/n y uno coloreado a mano
Format: 30 x 32 cm
Paper: Michel
Edition of 50 numbered and signed works
Order number: 40307
Normal price:
550,00 €
Special price for memberships:
Quote A:
522,50 €

( save 5% )

Quote B:
495,00 €

( save 10% )

Quote C:
440,00 €

( save 20% )

All prices include taxes
Con marco de aluminio negro
Suplement: 150,00 €
About this work:
El estreno de la ópera de Charles Gounod (1818-1893) en abril de 1867 en el Théâtre Lyrique de Paris fue un éxito clamoroso, seguido de cien representaciones más en el mismo año.
La obra consta de un prólogo y cinco actos y está basada en el libreto de Jules Barbier y Michel Carré, que resume fielmente la acción del drama de Shakespeare, pero concentrándose en las escenas de los encuentros de la pareja de amantes. Romeo y Julieta –la segunda ópera más conocida de Gounod, tras Fausto– ha mantenido su presencia en los repertorios internacionales hasta hoy gracias a su enorme riqueza musical, con joyas auténticas como los grandiosos duetos de amor, la balada de Mercutio o los pasajes corales de la obra.
Romeo y Julieta narra la historia del trágico amor de dos jóvenes de Verona, cuyas poderosas familias, que están enemistadas profundamente, desconocen que la pareja se ha unido secretamente en matrimonio con la ayuda un sacerdote confidente. Cuando Romeo es expulsado de Verona a instancias del padre de Julieta, deseoso de casarla con un poderoso pretendiente, Julieta es aconsejada por el sacerdote y finge envenenarse para poder seguir a su esposo al destierro. Romeo, alarmado por la noticia de la muerte de su amada, regresa a Verona y pone fin a su vida ante el cadáver de Julieta, que sólo está inconsciente. Al despertar Julieta y presenciar la muerte de Romeo, se quita desesperada la vida sobre el cuerpo de su amado. Un último y conmovedor canto de amor envuelve a la pareja.
Esta obra está incluida en las siguientes Series de Circulo del Arte:
Other Artworks by Bellver: