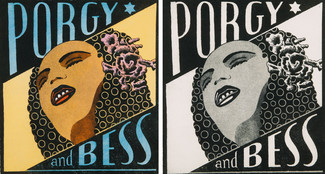 Click on the image for a more detailed view.
Fernando Bellver
Serie "Diosas de la ópera": Porgy and Bess
, 2011
Conjunto de un aguafuerte en b/n y uno coloreado a mano
Format: 30 x 32 cm
Paper: Michel
Edition of 50 numbered and signed works
Order number: 40340
Normal price:
550,00 €
Special price for memberships:
Quote A:
522,50 €

( save 5% )

Quote B:
495,00 €

( save 10% )

Quote C:
440,00 €

( save 20% )

All prices include taxes
Con marco de aluminio negro
Suplement: 150,00 €
About this work:
La ópera, compuesta por George Gershwin (Brooklyn, 1898 – Beverly Hills, 1937) con textos de su hermano Ira Gershwin y de DuBose Heyward, está basada en la novela Porgy de este último y en la pieza de teatro homónima que Heyward escribió con su esposa. Escrita para un reparto conformado por cantantes negros, Porgy and Bess fue estrenada en septiembre de 1935 en Boston y un mes más tarde en Nueva York. La ópera, que ha sido criticada ocasionalmente por albergar "estereotipos falsos de la población negra", es admirada por la síntesis innovadora de técnicas orquestales europeas con expresiones idiomáticas del jazz, el blues y la música folk. Considerada en el mundo "la ópera americana" por excelencia, forma parte de los repertorios musicales internacionales.
Porgy and Bess transcurre en un suburbio de Charleston, Carolina del Sur, y narra la historia de Porgy, un inválido que sobrevive pidiendo limosna, y de Bess, una linda muchacha que Porgy trata de rescatar de las garras de Crown, el rufianesco amante de la joven, que se convierte en prófugo de la justicia tras matar a un parroquiano. Porgy acoge en su choza a la desamparada Bess y, enamorado de ésta, se enfrenta al acosador Crown consiguiendo darle muerte. Durante la investigación policial de Porgy llega Sportin' Life, el hábil vendedor de drogas, que logra convencer a Bess para irse con él a Nueva York, ya que Porgy permanecerá encarcelado para siempre. Pero Porgy regresa al cabo de una semana y, en lugar de descorazonarse, decide partir en busca de su amada.
Las famosas canciones de Porgy and Bess reflejan con increíble intensidad los cambiantes pasajes de la obra. De ellas, la canción Summertime es sin duda la pieza mejor conocida.
Entre los intérpretes recordados de esta ópera figuran Grace Bumbry, Leontyne Price y Simon Estes.
Esta obra está incluida en las siguientes Series de Circulo del Arte:
Other Artworks by Bellver: