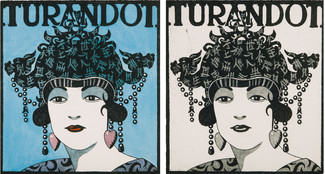 Click on the image for a more detailed view.
Fernando Bellver
Serie "Diosas de la ópera": Turandot
, 2011
Conjunto de un aguafuerte en b/n y uno coloreado a mano
Format: 30 x 32 cm
Paper: Michel
Edition of 50 numbered and signed works
Order number: 40306
Normal price:
550,00 €
Special price for memberships:
Quote A:
522,50 €

( save 5% )

Quote B:
495,00 €

( save 10% )

Quote C:
440,00 €

( save 20% )

All prices include taxes
Con marco de aluminio negro
Suplement: 150,00 €
About this work:
Obra póstuma de Puccini, cuya parte final quedó inconclusa a la muerte del compositor en 1924. La ópera en tres actos con libreto de Giuseppe Adami y Renato Simoni fue completada por Franco Alfano y estrenada en La Scala de Milán en 1926 bajo la batuta de Arturo Toscanini y la interpretación de Rosa Raisa (Turandot), Miguel Fleta (Kalaf) y María Zamboni (Liù). Constituye con su extraordinaria belleza y su exótico contenido la culminación de la obra del gran músico toscano.
Narra la historia de Turandot, la dura y fría princesa de hielo de la lejana China, y del príncipe Kalaf, hijo del exiliado rey tártaro Timur. Kalaf, magnetizado por la fuerza de Turandot, se enamora de ella y consigue resolver los tres enigmas establecidos para los pretendientes que deseen desposarla. De no resolverlos, hubiera sido decapitado, como todos los pretendientes que le precedieron. A pesar de la persistente resistencia de la dura princesa, se impondrá finalmente el amor en un emotivo desenlace.
Los papeles estelares de la ópera han sido interpretados por figuras legendarias como Miguel Fleta, Jussi Björling, Franco Corelli, Birgit Nilsson, Montserrat Caballé, Renata Tebaldi, Mirella Freni, Luciano Pavarotti o Mario del Monaco.
Esta obra está incluida en las siguientes Series de Circulo del Arte:
Other Artworks by Bellver: