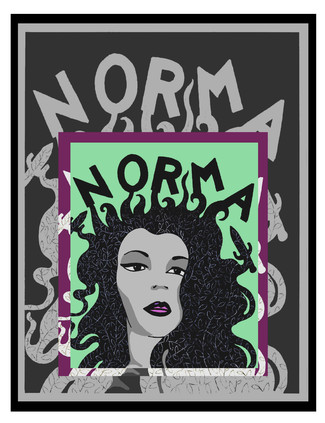 Click on the image for a more detailed view.
Fernando Bellver
Serie "Joyas de la ópera": Norma
, 2011
Estampa digital
Format: 60 x 48 cm
Paper: Somerset Velvet
Edition of 25 numbered and signed works
Order number: 40356
Normal price:
500,00 €
Special price for memberships:
Quote A:
475,00 €

( save 5% )

Quote B:
450,00 €

( save 10% )

Quote C:
400,00 €

( save 20% )

All prices include taxes
About this work:
Esta ópera ópera en dos actos de Vincenzo Bellini (Catania, 1801 – París, 1835), con libreto de Felice Romani basado en una tragedia de Alexandre Soumet, fue estrenada en La Scala de Milán en diciembre de 1831. En España celebró su estreno en el Teatro del Príncipe en Madrid en 1834. La obra está considerada como la más representativa del belcanto y el papel de su personaje central, la sacerdotisa Norma, es apreciado como uno de los más difíciles del repertorio para soprano.
La trama gira en torno al idilio secreto entre Norma, la sacerdotisa de los druidas, y el procónsul romano Polión, con el que ha tenido dos hijos. Norma trata de sofocar la rebelión contra Roma para no perder a su amado, pero éste se enamora de Adalgisa, otra sacerdotisa druida. Norma, ofendida y desengañada, ordena finalmente el ataque contra los romanos. Polión ha de ser sacrificado a los dioses, pero Norma se resiste a perderlo, a pesar de lo cual Polión no quiere abandonar a su nueva amada.
Finalmente Norma, sacudida por su amor al romano, la lealtad a su pueblo y su remordimiento por haberlo traicionado, decide autoinculparse de traición y ser ella misma quien suba a la hoguera del sacrificio. Ante esta actitud renace en Polión su viejo amor por Norma y ambos emprenden unidos el camino a la hoguera.
Entre las pocas cantantes que en el siglo XX han acometido con éxito el papel de Norma, destacan Maria Callas, quien entre 1949 y 1964 impuso su supremacía en el repertorio belcantista, sucedida por Joan Sutherland en las décadas del 60 y 70, y Montserrat Caballé, quien a partir de los 70 también fue una Norma por excelencia.
Other Artworks by Bellver: