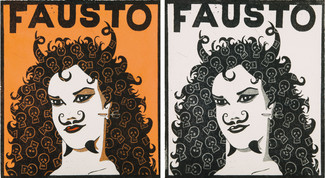 Click on the image for a more detailed view.
Fernando Bellver
Serie "Diosas de la ópera": Fausto
, 2011
Conjunto de un aguafuerte en b/n y uno coloreado a mano
Format: 30 x 32 cm
Paper: Michel
Edition of 50 numbered and signed works
Order number: 40309
Normal price:
550,00 €
Special price for memberships:
Quote A:
522,50 €

( save 5% )

Quote B:
495,00 €

( save 10% )

Quote C:
440,00 €

( save 20% )

All prices include taxes
Con marco de aluminio negro
Suplement: 150,00 €
About this work:
La ópera en cinco actos de Charles Gounod (1818-1893), con libreto de Jules Barbier y Michel Carré, inspirado en el Fausto de Goethe, fue estrenada en 1859 en el Théâtre Lyrique de Paris. La ópera tuvo una fría acogida, pero, tras una gira por Alemania y otros países, se repuso en París con éxito considerable gracias a la sustitución de los diálogos hablados por recitativos cantados y la introducción de elementos nuevos, tales como la intervención de un impresionante coro y la participación de un ballet. En esta versión enriquecida se ha convertido Fausto en un clásico imprescindible de la ópera francesa en el mundo.
La obra omite el espíritu profundo y el carácter demoníaco del clásico de Goethe pero mantiene superficialmente su argumento exterior. Gounod nos presenta a Fausto como un ser que entrega el alma a Mefistófeles a cambio de recuperar la juventud y el amor, y prescinde de la dimensión metafísica del Fausto sediento de conocimiento y de penetrar en las últimas verdades del universo.
La ópera se concentra así en la tragedia de Margarita, la joven que es seducida por Fausto con ayuda de las artimañas de Mefistófeles y que, al alumbrar un hijo, es condenada por su hermano. Repudiada por todos y acosada por el remordimiento, mata a la criatura y enloquece en el calabozo, donde espera su fin. Llegado el momento de su liberación del sufrimiento por la muerte, los coros celestiales proclaman la salvación de Margarita, sofocando con su canto la condena que profiere Mefisto.
Entre las grandes interpretaciones de la ópera figuran la dirigida en 1978 por George Prêtre, con Mirella Freni (Margarita), Plácido Domingo (Fausto) y Nicolai Ghiaurov (Mefisto), así como la de André Cluytens, de 1959, con Victoria de los Ángeles, Nicolai Gedda y Boris Christov.
Esta obra está incluida en las siguientes Series de Circulo del Arte:
Other Artworks by Bellver: