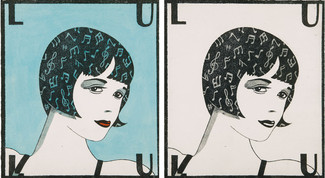 Click on the image for a more detailed view.
Fernando Bellver
Serie "Diosas de la ópera": Lulú
, 2011
Conjunto de un aguafuerte en b/n y uno coloreado a mano
Format: 30 x 32 cm
Paper: Michel
Edition of 50 numbered and signed works
Order number: 40311
Normal price:
550,00 €
Special price for memberships:
Quote A:
522,50 €

( save 5% )

Quote B:
495,00 €

( save 10% )

Quote C:
440,00 €

( save 20% )

All prices include taxes
Con marco de aluminio negro
Suplement: 150,00 €
About this work:
Ópera de Alban Berg (Viena, 1885 – 1935). Su libreto, escrito en 1913 por el propio compositor, está basado en las tragedias El espíritu de la Tierra (1898) y La caja de Pandora (1904) del dramaturgo alemán Frank Wedekind (1864-1918). El autor intenta desenmascarar en ellas la hipocresía de la moral burguesa de su tiempo.
La muerte sorprendió a Berg mientras trabajaba en el tercer acto, por lo que existen dos versiones de la ópera: la original de un prólogo, dos actos y un epílogo, estrenada en 1937 en Zürich, y la completada con el tercer acto por el compositor y director austriaco Friedrich Cerha, que fue estrenada en 1979 en Paris. En España, Lulú fue estrenada en su versión inacabada en el Gran Teatro del Liceo de Barcelona en 1969 y en la versión completa en 1987.
Alban Berg, que fue alumno de Arnold Schönberg, realizó en Lulú incursiones en la atonalidad. La ópera, considerada como una de las más importantes y valoradas del siglo XX, está vinculada a la estética expresionista y es marcadamente dramática. La música, de una belleza y un lirismo extraordinarios, es reflejo de una compleja y osada trama. En una sucesión de desconcertantes escenas se narra la impúdica y libertina vida de Lulú, una mujer lasciva y de belleza subyugante, que lleva a la perdición a cuantos hombres y mujeres sucumben a su irresistible atractivo. Finalmente Lulú, reducida por la sociedad a un mero objeto sexual, es víctima ella misma de un sangriento y trágico destino.
Esta obra está incluida en las siguientes Series de Circulo del Arte:
Other Artworks by Bellver: