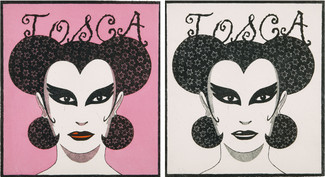 Click on the image for a more detailed view.
Fernando Bellver
Serie "Diosas de la ópera": Tosca
, 2011
Conjunto de un aguafuerte en b/n y uno coloreado a mano
Format: 30 x 32 cm
Paper: Michel
Edition of 50 numbered and signed works
Order number: 40341
Normal price:
550,00 €
Special price for memberships:
Quote A:
522,50 €

( save 5% )

Quote B:
495,00 €

( save 10% )

Quote C:
440,00 €

( save 20% )

All prices include taxes
Con marco de aluminio negro
Suplement: 150,00 €
About this work:
Ópera de Giacomo Puccini (Lucca, 22.12.1858 - Bruselas, 29.11. 1924) con libreto de Luigi Illica y Giuseppe Giacosa, basado en un drama teatral de Victorien Sardou. La obra, que transcurre en Roma en 1800 cuando Napoleón vence a Austria en la batalla de Marengo, es de una gran intensidad dramática. Fue estrenada en Roma el 14 de enero de 1900.
Ante un trasfondo histórico y político confuso y en una atmósfera asfixiante de dudas y sospechas, se desarrolla la historia de Tosca, una mujer sofisticada, cuya vida transcurre entre el arte y su amante, el pintor Mario Cavaradossi. Totalmente ajena a los acontecimientos políticos, se ve envuelta en situaciones extremas que concluyen con la ejecución de Mario y la propia muerte de la heroína, al precipitarse desesperada de las murallas del castillo.
Tosca, encarnación de la diva per se, ha sido el papel favorito de muchas grandes cantantes, si bien en la segunda mitad del siglo XX ha sido la insuperada Maria Callas la intérprete con quien más se ha asociado este rol.
Esta obra está incluida en las siguientes Series de Circulo del Arte:
Other Artworks by Bellver: