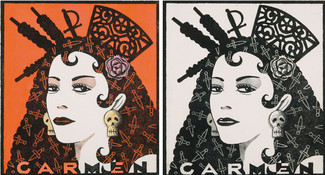 Click on the image for a more detailed view.
Fernando Bellver
Serie "Diosas de la ópera": Carmen
, 2011
Conjunto de un aguafuerte en b/n y uno coloreado a mano
Format: 30 x 32 cm
Paper: Michel
Edition of 50 numbered and signed works
Order number: 40305
Normal price:
550,00 €
Special price for memberships:
Quote A:
522,50 €

( save 5% )

Quote B:
495,00 €

( save 10% )

Quote C:
440,00 €

( save 20% )

All prices include taxes
Con marco de aluminio negro
Suplement: 150,00 €
About this work:
Es la obra más conocida de Georges Bizet (Paris, 1838 – Bougival, 1875) y la ópera francesa más famosa e interpretada en el mundo.
Basada en la novela homónima de Prosper Merimée, de 1846, fue compuesta en 1875 y estrenada en el mismo año en la Opéra Comique de Paris con un libreto de Ludovic Halévy y Henri Meilhac. El estreno fue un fracaso rotundo, que pudo afectar la salud del compositor, pues Bizet sufrió una grave depresión mental y falleció tres meses más tarde con sólo 36 años, no llegando a disfrutar el enorme éxito póstumo de su obra. Carmen vio su estreno en España en 1881, en el Teatre Líric de Barcelona.
La obra, ambientada en Sevilla, está protagonizada por Carmen, una gitana cigarrera de la Fábrica de Tabacos. Mujer de belleza y atractivo irresistibles, cautiva al soldado Don José, quien, ante el indómito deseo de libertad de su amada y la imposibilidad de poseerla enteramente, acaba quitándole la vida en un arrebato de celos.
Desde el famoso preludio hasta el final de la ópera, la obra está trufada de maravillosos pasajes orquestales y corales, de refinadas canciones y de coplas coloristas y expresivas. La música de Carmen y la imagen idealizada de su protagonista han penetrado en la memoria colectiva del mundo. Son muchas las adaptaciones que la novela de Merimée ha tenido en otros campos, particularmente la pintura y el cine.
Entre las grandes voces que han interpretado Carmen se encuentran Maria Callas, Giulietta Simionato, Teresa Berganza, Leontyne Price, Grace Bumbry y Agnes Baltsa.
Esta obra está incluida en las siguientes Series de Circulo del Arte:
Other Artworks by Bellver: