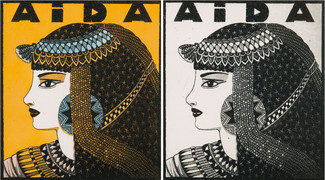 Click on the image for a more detailed view.
Fernando Bellver
Serie "Diosas de la ópera": Aída
, 2011
Conjunto de un aguafuerte en b/n y uno coloreado a mano
Format: 30 x 32 cm
Paper: Michel
Edition of 50 numbered and signed works
Order number: 40308
Normal price:
550,00 €
Special price for memberships:
Quote A:
522,50 €

( save 5% )

Quote B:
495,00 €

( save 10% )

Quote C:
440,00 €

( save 20% )

All prices include taxes
Con marco de aluminio negro
Suplement: 150,00 €
About this work:
Una de las óperas más populares de Giuseppe Verdi (1813–1901). Libreto de Antonio Ghislanzoni y Camille du Locle, basado en el drama homónimo de Auguste Mariett.
La ópera en cuatro actos fue compuesta para la inauguración del Canal de Suez el 24 de diciembre de 1871, pero estrenada con retraso en la Ópera de El Cairo. Narra la historia de amor entre la princesa etíope Aída, esclava en Egipto, y Radamés, comandante egipcio de las fuerzas ocupantes de la tierra de Aída. Amonasro, padre de Aída, exige venganza y se opone a este amor, al igual que Amneris, hija del faraón, enamorada también de Radamés.
Entre las Aídas famosas destacan Renata Tebaldi y Maria Callas, así como Leontyne Price, la soprano afroamericana que se hizo célebre con este papel.
Esta obra está incluida en las siguientes Series de Circulo del Arte:
Other Artworks by Bellver: